Indo Jax
®

Surf School
Wilmington, NC - Wrightsville Beach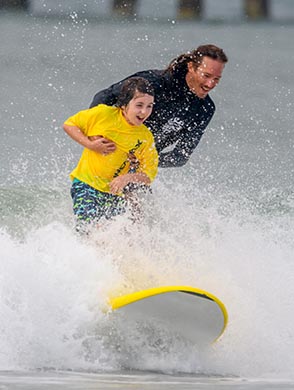 Surfing is an exciting and fun sport to experience. As well, the warm waters and gentle waves of the Cape Fear Coast provide ideal conditions for learning to surf. Just about every morning in the Spring, Summer, and Fall we experience weather and waves that are optimum for learning this fantastic sport.
At Indo Jax® our team of talented, and highly trained surf instructors can give you an experience of a lifetime while you learn the sport of the Ancient Polynesians. We will get you up and riding in no time at all, as well as teach you everything you need to know about ocean safety, marine biology, and surf etiquette.
Because of the nature of surfing and the ever-changing ocean environment, Indo Jax® suggests taking a series of surf lessons before attempting to surf on your own. We can make your experience learning to surf enjoyable, safe, and hassle free. Indo Jax® offers group "learn to surf" classes, and private surf lessons. We have the experience to teach children and adults of all ages and all skill levels.
To sign up for any of our surf camps or classes, go to the registration page and follow the instructions for registering for the surf program that suits your needs.
---
A Note About Safety
Watersports such as surfing and kiteboarding can be a dangerous endeavor. Changing weather and surf can make the ocean unpredictable. At Indo Jax® safety is our number one concern. All lessons will include an in-depth ocean safety and stretching/ fitness component before ever entering the water. We use soft foam boards with soft flexible fins for our surf lessons to ensure the safety of our students. Our intermediate and advanced kiteboard lessons will utilize our jet ski to follow our students. We take no risks when it comes to student safety, so there is always a chance a lesson or camp may be rescheduled in the event of unsafe conditions. All of our instructors are certified in CPR, lifesaving, first aid and have extensive ocean safety knowledge and lifesaving abilities. We are fully insured and keep our student to instructor ratios as low as necessary to ensure the safety of our students.